Dell WLD15-65W-OB Description:
Dell WLD15 Wireless Docking Station, 65W PSU, 12 Mth Wty (Open Box)
Dell WLD15 Wireless Docking Station, 65W PSU, 12 Mth Wty (Open Box)

Dell WLD15
Introducing Dell's new wireless docking solution for laptops, ultrabooks™ and 2-in-1s with 5th generation Intel® Core™ vPro™ processors.
Seamless wireless docking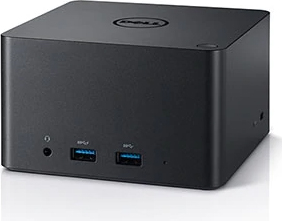 The Dell Wireless Dock provides seamless high-speed wireless docking to your network through Intel® WiGig technology powering up to two external displays, keyboard, mouse, audio and other peripherals.
Convenient connections
Simply connect all the devices and peripherals that you use every day to the Dell Wireless Dock and your laptop will communicate wirelessly with the dock. With two USB ports at the front and three USB ports at the back, the dock unites everything conveniently in one place for your wireless desktop.
Increase at-the-desk productivity
Work more efficiently and increase productivity with two external displays and all the devices on your desktop. The Dell Wireless Dock supports VGA, HDMI and mDP for up to two displays
WiGig high speed
Using Intel WiGig technology, the Dell Wireless Dock enables higher data transfer rates, up to 4.6 Ghz higher than Wi-fi AC-certified products.
Secure communication
Work confidently, knowing that your files are protected with data encryption and strong authentication protocols IEEE802.11 and current WLAN technologies.
Easy presentation connectivity
Simplify access to presentation and collaboration tools in your meeting rooms and classrooms with fast, reliable connectivity to projectors and other compatible equipment.
Collaboration
When you collaborate on Skype, Lync or other communications tools you'll benefit from the Dell Wireless Dock's front audio in/out port for Voice over IP.